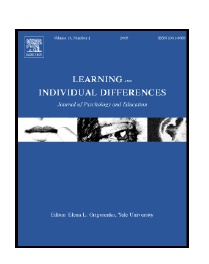 Conscientiousness and intelligence – our new study!
Zajenkowski, M., Stolarski, M. (2015). Is conscientiousness positively or negatively related to intelligence? Insights from the national level. Learning and Individual Differences, 43, 199–203.
---
Although conceptually conscientiousness should be positively associated with intelligence, existing empirical data do not support this hypothesis. Several recent investigations reported a negative association of the two variables. In the present paper we examine the national data on personality and intelligence. We were interested how the analysis conducted at national level may shed new light on the relationship between conscientiousness and cognitive ability. The most important finding concerned the differences in correlations between self-report and observer-rating conscientiousness scores with IQ. The former was negatively associated with cognitive ability, while the latter positively.
BACK TO HOMEPAGE
View all posts